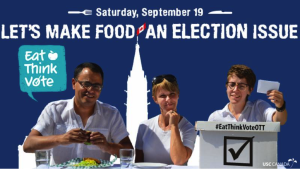 Does food matter to you? Join thousands of people across the country who want to make food a critical issue in the federal election this fall!
What:  A stylish block party with local candidates from six Ottawa ridings to discuss the food issues you care about with other members of your community.
When:  Saturday, September 19th, 2015 from 4pm to 7pm
Where:  Metcalfe Street between Sparks and Wellington
Who:  We expect over 100 people including Ottawa citizens, community organizations working on food issues in Canada and abroad, as well as candidates from the four major political parties.
Table conversations will range in topics from ending hunger and poverty, supporting new farmers, good food for all, and Canada's contribution to food sovereignty and the global food system. Let's start the conversation early! Share your thoughts and spread the word via social media now: #EatThinkVoteOTT @FoodSecureCAN
The event is FREE but you must register in advance here.
BYO sandwich and dress in white!